The Cottonwood & Palo Verde Golf Courses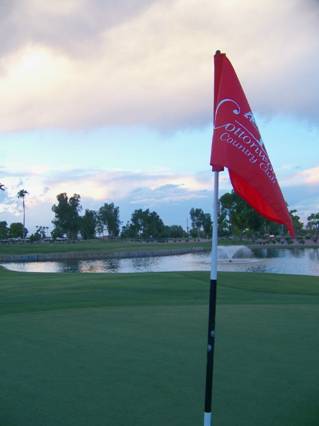 Cottonwood Golf Course is a Greg Nash design. With four sets of tees available, the course offers a challenge to all golfing levels:
1. BlackTees, measuring 6570 yards, are for the longer hitter.
2. Blue Tees, at 6221 yards, are recommended for the scratch to seventeen handicaps.
3. White Tees, at 5764 yards, are recommended for men and women with a handicap of eighteen and higher.
4. Gold Tees, measuring 4791 yards, are available for both men and women.
A driving range, chipping green,
and putting green are available to
players.
Palo Verde, an executive golf course, is also challenging to all golfing levels. It features four par fours, two par fives, and twelve par threes. The Blue Tee Course yardage at 4060 yards is recommended for men. The Red Tee Course measures 3342 yards and is recommended for women. A practice putting green is also available.